For those who are familiar with the phrase "Time is Money", we all know how expensive laundry can be when paid with the currency of time. Luckily, I have a quick folding tip solution for you to start folding T-shirts like a wizard to earn you some of that precious time back. Not only that, you'll also gain a boost of confidence with performing this cool trick. To make things even sweeter, your children will want to fold their own shirts once they witness the powers of magic folding. I'll quickly remind all of you parents out there the priorities for our children are chores first, which then is closely followed by a successful future.
So without further adue, here is a self explanatory GIF of how to save time and energy when folding a T-shirt
There you have it. For all the cool dads, you just got a whole lot cooler. For all the hard working moms, you have bought yourself some alone time with your favourite book or glass of wine while your kids mystify themselves with folding the family laundry. And for everyone else, you've just learned a new party trick!
—
Laundry services can save you time, money and ultimately lots of frustration. If you are still not using these services, at least find ways to reframe the way you think about laundry. Use the tip above to make things a little bit more exciting so that you are not dreading the one evening a week that's dedicated to laundry. Here are a few other GIFS and lesser valuable folding tricks that will bring a laugh to the idea of doing laundry :)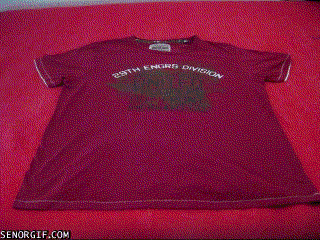 ttp://i.imgur.com/Aw6smQZ.gifv
Please reload